Bicycle Accident Lawyer in San Jose
Defending the Rights of Bike Accident Victims in the Bay Area
The last thing on your mind when you start out on a bike ride is the possibility that you could get hit by a car. However, bike accidents can happen, especially when you regularly pedal to work, school, stores and around the neighborhood.
If you have been injured in a bike accident in San Jose or the Bay Area, speak with a San Jose bicycle injury lawyer from . You may have a viable claim to recover compensation for your damages. During a free, no-obligation consultation, we can discuss your unique situation and help you understand your potential legal options.
How We Handle Bike Accident Claims in the Bay Area
At Needham Kepner & Fish LLP, our San Jose bicycle accident attorneys regularly represent cyclists who have been hit by cars, trucks or motorcycles. We are avid bike riders ourselves, so we understand the unique challenges of cycling and how to investigate bicycle accidents.
Get the Compensation You Need After a Serious Bike Injury
The rise in the popularity of cycling has caused an ever increasing demand for safer streets and bike lanes.
Regrettably, it has also caused an increase in bicycle accidents. The unprotected nature of bicycles makes riders especially susceptible to serious injuries and wrongful death, including traumatic brain injuries, spinal cord injuries and broken bones in the event of an accident.
These injuries can cost millions of dollars over a lifetime. California bicycle laws establish that cyclists have the same rights to the road as other motorists. If a motorist's negligence caused your bike accident injuries, then you may be entitled to compensation for your damages.
By performing a thorough investigation, our San Jose bicycle accident attorneys uncover the real causes of your accident so you get the recovery you deserve.
What Are Common Causes of Bicycle Accidents?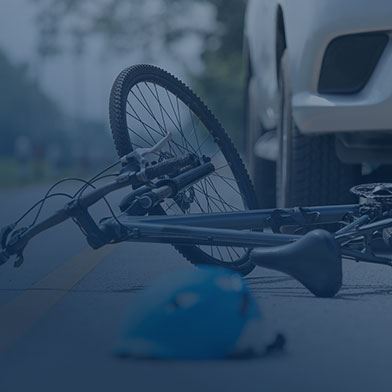 Cyclists can follow bicycle safety tips to protect themselves against accidents. Unfortunately, cyclists cannot always protect themselves, especially when negligent motorists are involved.
Understanding the most common causes of crashes can help you minimize your risk of injury. Some common conditions that can cause bike accidents include:
Negligent drivers. A car accident with a bicyclist most often results from driver negligence. A motorist may fail to yield, misjudge the distance between the car and the bicycle, fail to signal before changing lanes, be distracted by a cell phone, or drive under the influence of drugs or alcohol. Although motorists often blame the cyclist, our investigation will reveal the actual cause or causes of your accident.
Defective parts. Our San Jose bike accident lawyers can investigate to determine whether defective parts, such as a gear, brake or wheel, caused or contributed to your bicycle accident. After a crash, it is important to keep as many of the parts of the bicycle as possible – but do not repair your ride. Since we are cyclists ourselves and understand bicycle engineering, we can inspect parts and spot defects. If our investigation reveals that the defective part caused your accident, we then draw on our extensive experience with product liability to seek compensation from the manufacturer and/or retailer of the bicycle and/or the defective part.
Dangerous road conditions. Potholes, oil spills, poorly maintained roads, and inadequate or obstructed signage can pose a greater danger to bikes than other vehicles. Even if the police report fails to mention any dangerous road conditions or cites the bicyclist as the cause of the incident, we will investigate the scene to uncover anything that might have contributed to your accident.
What Are Common Bike Accident Injuries?
Do you know what to do after a bike accident? After any bicycling accident in the Bay Area, you should first seek medical attention. Afterward, we recommend that you contact a San Jose bicycle accident lawyers.
If you have already been the victim of an accident while biking but are not sure if you sustained an injury, then you should speak to a doctor as soon as possible. Even if you feel fine, a medical check can help identify injuries that might otherwise take days to develop.
Some of the most serious cycling injuries include:
TBI. Traumatic brain injuries (TBIs) can happen from even a low-speed collision. Signs that you or someone you know may have sustained a TBI include physical or behavioral impairment. Sudden emotional changes are also common.
Broken Bones. When a bone breaks, it may take months to heal. This can cause you to lose time at work and may also limit your mobility. Common broken bones from a bicycle accident are ribs, hands, legs, arms and skull.
Blunt Force Trauma. Cyclists are tough, so you might think you did not sustain any injuries immediately after an accident. However, just because there is no blood your bike does not mean that you were not injured. Blunt for trauma could cause damage to your spleen, lungs, liver or other organs. In the worst cases, bicycle accident victims suffer from paralysis, requiring lifetime care.
Cycling Accident? Call an Experienced San Jose Bicycle Injury Lawyer Now
More and more people are using bicycles as their primary mode of transportation. We understand why: riding a bike saves time, is a good workout and is better for our planet. It is also one of the best ways to take in the wonderful state of California.
You deserve to enjoy the activity of bike riding by having the certainty of a dedicated legal team at your side. A bicycle accident lawyer from our team can look at your case, no matter what type of accident you experienced. We believe in handling our cases with a genuine and personal touch.
If you or a loved one suffered an injury in a bicycle, scooter or motorcycle accident, then consult an experienced bicycle accident attorney in San Jose as soon as possible. We can begin investigating your accident, contacting witnesses and preserving evidence right away.
---
To schedule a free consultation with a San Jose bicycle injury lawyer, contact Needham Kepner & Fish LLPor call (408) 716-1668.
---
Our lawyers are available for weekend and evening meetings. We handle injury cases on a contingent fee basis, which means that you pay us nothing unless you recover compensation. For more information on bike accidents in the Bay Area, visit our page on frequently asked questions about bicycle accidents.